Formula E Season 3 Guidebook
2016-09-05 02:55:28
Season 3 of Formula E is less than 2 weeks away, and it's set to be the closest and most competitive yet. Why? Read on...
The Grid
(Image courtesy of Formula E Media)
Renault e.Dams
The reigning double constructors champions, run by the experienced Jean Paul Driot (Who also owns the successful DAMS teams in GP2, GP3) and co-owned by legendary 4-time F1 world champion Alain Prost, have stuck to their race winning lineup of Season 2 drivers champion Sebastien Buemi (Winner in Beijing, Punta Del Este, and Berlin) and Alain's son Nico, who won the final two races in Battersea Park at the end of last season.
Ed's verdict: They've ironed out some of the operational errors which cost them the title in the first season, but costly mistakes by Buemi in qualifying for Punta Del Este, Mexico, Long Beach and Paris meant that he was often having to play catch-up and occasionally this led to needless mistakes in the best car in the field; however, despite the championship going down to the final round, Buemi is still a worthy champion with exceptional pace, and he will be the favourite to repeat his success after strong performances in the new car during public testing at Donington Park. Despite a strong ending to season 2, enabled it must be said by a healthy dose of misfortune for the title contenders, Nico Prost disappointed overall and up to that point he had failed to take advantage of various opportunities to score podium finishes, doing so on only 1 other occasion. (Mexico, a result achieved only after 2 cars ahead of him were penalised) Although the two wins in London will have boosted his confidence, I expect he will have a harder time once the lights go out in Hong Kong. Prost Jnr. still has much to prove.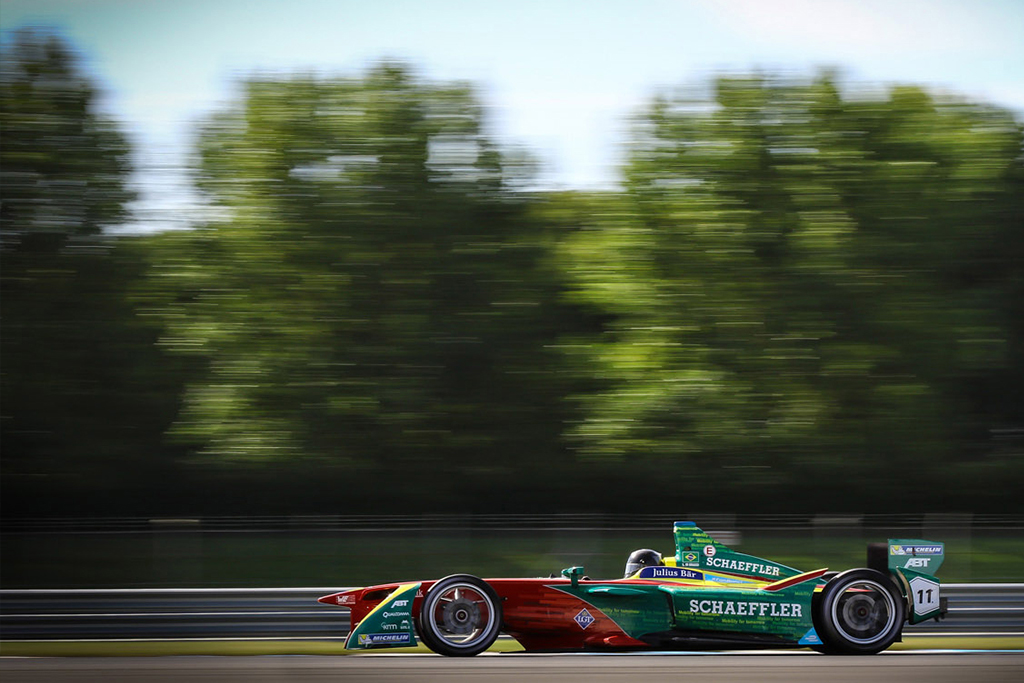 (Image courtesy of Formula E Media)
Abt Schaeffler Audi Sport
Runners up last season in both championships, Abt benefits from increased Audi manufacturer involvement as they work alongside electric powertrain provider Schaeffler. The team is run by stalwart Hans-Jurgen Abt, and is sticking with Brazillian Vice Champion Lucas Di Grassi (Winner in Putrajaya, Long Beach and Paris) and Hans-Jurgen's son Daniel Abt, who scored podiums in Long Beach, Berlin and London.
Ed's verdict: Say what you will about the controversial crash at the climax of last season, but Di Grassi is in my view pound-for-pound one of the best drivers in Formula E due to his amazing consistency accross a season. Last season he was definitely the underdog against Buemi's e.DAMs package, and did an amazing job to enter the final weekend ahead of the Swiss driver on points. However, for the second season in a row he was disqualified due to a mistake by the team which cost him a race win, and ultimately the championship. That aside, Abt have been the only team to consistently challenge e.DAMS at each race, but don't expect that to remain the same situation in season 3 as teams that were behind in season 2 start to get their acts together. Despite some strong podiums in the tail end of season 3, Daniel Abt still trails Di Grassi in the consistency department, and is also yet to win a race. I can't shake the feeling that as long as Di Grassi is around, Daniel will remain a number 2 driver, as evidenced by the call in Berlin to let Di Grassi through, which ultimately Abt wasn't able to do without slowing down too much and losing an extra place to Nico Prost, so he chose to stay put. Abt's pace has improved relative to Di Grassi which should enable him to keep the team as a high scorer in the constructor's championship.
(Image courtesy of DS Virgin Racing)
DS Virgin Racing
The DS Virgin team, run by team principal Alex Tai, took a single win in Buenos Aires courtesy of British driver Sam Bird, who is retained for this season. Jean Eric Vergne didn't have a strong a year, scoring a single podium in Paris, and has decided to jump ship to the new Techeetah squad. In his place is three time World Touring Car Champion Jose Maria Lopez from Argentina. The team has also dropped it's troublesome and heavy twin-motor concept in favour of a single motor solution.
Ed's verdict: Sam Bird is a huge asset to DS Virgin, but unfortunately he doesn't always show the same amount of consistency as title rivals like Di Grassi. However he has never lacked for speed, as evidenced by him winning the most pole positions (Buenos Aires, Long Beach and Paris) in what was not the best car. Now, without the heavy twin motor weighing him down we can expect a stronger start to the season from DS Virgin. Their new driver Lopez set solid lap times but never quite set the world alight in testing; however he has shown incredible pace and racecraft in WTCC and should not be underestimated. In my opinion he is an excellent replacement for Vergne and should be able to push Bird more than his previous teammates have been able to.
(Image courtesy of Formula E Media)
Faraday Future Dragon Racing
After narrowly missing out on 3rd place in the teams' championship last season, Dragon Racing, with their new title partners Faraday Future, (announced too late to make a big difference to this season's performance) are run by former Indycar team owner Jay Penske, who is the son of the legendary Rodger Penske. Like last season their two drivers are Jerome D'Ambrosio, who won the first ever Mexico ePrix, and Le Mans winner Loic Duval.
Ed's Verdict: Dragon has one of the most reliable lineups in the FE field. D'Ambrosio's pole laps in Punta Del Este and Mexico were joyful to behold and showed supreme bravery, and his defence in the latter against Buemi gave him a well deserved win. Loic Duval didn't quite get the results he deserved but he potentially could have won in Putrajaya, and Long Beach, where he rose from near the back of the grid to 8th. I expect more podiums for the Dragon team, but they should be able to sneak another win provided that e.Dams and Abt slip up ahead. The car's ultimate competitiveness could be a stumbling point but considering there are links to Mahindra in terms of part usage, if they're quick, then Dragon should also be up there.
(Image courtesy of Formula E Media)
Mahindra Racing
Indian squad Mahindra celebrated their first podium with Nick Heidfeld in Beijing, and their best result with second place in London thanks to the ever-popular Bruno Senna, who departs Formula E and will be replaced in this season by talented SuperSwede Felix Rosenqvist. They'll both be watched over vigilantly by team principal Dilbagh Gill.
Ed's Verdict: The driver lineup here is one of the most exciting in an already excellent field. Heidfeld has not had the best luck, especially since damaging his hand in Putrajaya, but even after this setback he remains a ruthlessly efficient overtaker who combines speed with energy conservation excellently. But although Quick Nick is the defacto team leader for the second season running, he has some serious opposition in the form of Rosenqvist, who has been employed on the strength of his street circuit specialism at circuits like Pau and Macau in European Formula 3. It could make for some very interesting times in the Mahindra garage, but Mahindra will be focusing on consolidating their position of 5th in the constructors; and that means more podiums, and maybe (Just maybe) taking that elusive first win.
(Image courtesy of Rajan Jaganda from e-racing.net)
Venturi
Guildo Pastor's Monaco based and Leonardo Di Caprio co-owned Venturi team had a mixed season last time out. The often underrated Stephane Sarrazin did a superb job all season to finish in the top 10 at every round and secured a first ever podium with second in Long Beach. The second seat has been a bit of a revolving door that secured only a handful of points, all courtesy of Jacques Villeneuve's replacement Mike Conway, who now finds himself being replaced by German Maro Engel.
Ed's Verdict: Venturi had an incredibly troubled testing, they were unreliable and far off the pace. Changing Mike Conway, who had shown some potential and was just starting to deliver and occasionally beat the experienced Sarrazin, for the unknown and untested Maro Engel, with the main reason being given to please German sponsor ZF, seems to have been (with all due respect) a very shortsighted move. Maintaining Sarrazin will be key though as he really came alive in season 2, and should have the legs on Engel. Despite their efforts I expect this to be Venturi's toughest season yet with relatively few points come it's end. Beating the likes of Jaguar or Andretti isn't out of the question though.
(Image courtesy of Formula E Media)
MS Amlin Andretti
The legendary US team is headed by Michael Andretti, the son of 1978 F1 champion Mario. Simona De Silvestro has been fired after she was outperformed by the Rookie Dutchman Robin Frijns in season 2, who was many people's driver of the season after repeatedly taking his season one machinery to heights it had no business being in. Although FE's only female driver has been lost to Australia's V8 supercars, Andretti have hired a race-winning replacement in the form of Portuguese ace Antonio Felix Da Costa. Andretti have finally managed to get their season 2 powertrain to work, and have updated it for season 3.
Ed's Verdict: Whilst many teams will look at their driver lineup with envy, the same probably can't be said for their car; it's not really got the pace and after causing several red flags their reliability doesn't seem rock solid either although the team claim to have fixed these teething troubles. Impossible to call whether Da Costa or Frijns will end the season with the most points, but it seems Da Costa has settled in quite nicely and if anyone can upset Robin's dominance of the Andretti team, it's AFDC.
(Image courtesy of Formula E Media)
Techeetah
Formerly Team Aguri, but now bought by Chinese investors. Techeetah retain team principal and engineering genius Mark Preston, but gain a new name which apparently translates into "Titanium Unicorn". (Seriously, I looked that up) They've also brokered a deal to get the same powertrain as Renault e.Dams as a customer, and it's this that has persuaded Jean Eric Vergne to move from DS Virgin to take the seat previously occupied by Antonio Felix Da Costa. Ma Qing Hua occupies the second seat.
Ed's Verdict: JEV has multiple pole positions to his name, but no wins as of yet. This could be the season where that all changes. The Techeetah has shown pace similar to e.Dams and JEV found himself trading the Donington FE lap record with Buemi. There is a strong rumour that JEV has a stake in Techeetah, but whatever the case this is feeling like Jean-Eric's team and he's in a much improved mood with a setup to his liking. Team Aguri were very good at making a season 1 powertrain as competitive as the season 2 powertrain, so expect them to get the maximum out of their package and for JEV to be a dark horse for the title. Ma Qing Hua is massively inexperienced and probably the lowest rated driver in the field. However, he has shown some solid car control which should see him stay out of trouble; I anticipate that Ma will probably score some points but don't expect him to be anywhere near the pace of JEV.
(Image courtesy of Formula E Media)
NEXTEV NIO
After becoming driver's world champions with Nelson Piquet Jnr. in the very first season, Dr. Martin Leach's NEXTEV team faced a sharp decline in fortunes for season 2 as they struggled to last in the championship. They've managed to retain the Brazilian for another season, as well as the talented Englishman Oliver Turvey, who has been an LMP2 winner at Le Mans and has spent many years prior to Formula E as a McLaren development driver testing away from the spotlight. They've chosen to perservere with the heavy and unwieldy twin motor powertrain, which could prove to be a huge gamble.
Ed's Verdict: Piquet Jnr. is undoubtably quick but gets frustrated very easily when things aren't going his way, and is quick to voice his displeasure. There were moments last season when it was clear he was overdriving the NEXTEV car, and he said very publicly that his focus was on this season; so the pressure is on for the inaugural world champion to recapture his form. Meanwhile, Turvey has impressed on the other side of the garage, picking up solid points finishes on occasion and particularly shining in qualifying late in the season; a deserved first podium was snatched away in Battersea Park when JEV damaged Turvey's car, forcing him to go straight on into the wall. Last season was such a disaster that season 3 can only be a better one for the Chinese team, with some promising and reliable running in testing showing that things are improving. Expect NEXTEV to be battling with Andretti but ahead of Venturi and Jaguar.
(Image courtesy of Formula E Media and Jaguar Land Rover)
Panasonic Jaguar Racing
The manufacturer that fans will be most excited to see join the grid is Jaguar; their return to racing will be overseen by team director James Barclay, and they've gone for Irish A1GP champion Adam Carroll and New Zealand's GP3 champion Mitch Evans as their two drivers.
Ed's Verdict: Jaguar are the big unknowns this season. In testing they have looked respectable and most importantly reliable, but the car has not looked hugely quick compared to the frontrunners. Adam Carroll is a driver who has consistently overachieved in his single seater career and is very highly rated; more recently he's kept race sharp by competing in the World Endurance Championship and British GT's, so a lot will be expected of him. Mitch Evans was GP3 champion back in 2012, but since then his GP2 career did not go to plan, and he intends to quit the category after the current year ends. Evans suffered a lot of bad luck and misfortune throughout his years in GP2, so expect him to wipe the slate clean and show up well compared to his teammate. But given that both are race rookies, with Carroll having more testing in the car, expect there to be a huge mountain to climb for this team; a few points this season would show great potential for Jaguar, so that has to be the target.
Races
Round 1) Hong Kong ePrix, 9th of October 2016
The championship starts with a new event on a 2km track located in the Hong Kong central harbourfront area which uses existing roads. From the track guides and simulation videos, it seems like a challenging circuit with a layout which should encourage overtaking. Expect Chinese driver Ma Qing Hua and his Techeetah team to be fairly popular here given their nation's proximity.
Round 2) Marrakesh ePrix, 12th of November 2016
Another new event to the championship sees it go to the African continent for the first time, and to Marrakesh, a city which has previously hosted Auto GP and the World Touring Car Championship.
None-championship eSports event at Consumer Electronics Show, Las Vegas, January 5th-7th
Part of a tournament that Formula E are doing on the videogame RFactor 2, in which sim racers will face all 20 Formula E driver on a virtual Las Vegas track whilst competing for $200,000, the largest amount of prize money ever given at an Motorsports related eSports event. (To be fair there haven't been that many before this though)
Round 3) Buenos Aires ePrix, 18th of February 2017
A popular returning ePrix from the first two seasons, the Puerto Madero street circuit always delivers a classic encounter, with it's mix of long straights, tight hairpins and fast flowing corners it's a track that really rewards the most skilful drivers who often outperform their cars here. The crowd will be cheering on the local hero: DS Virgin's Jose Maria Lopez, who is nicknamed "Pechito" by his adoring fans.
Round 4) Mexico City ePrix, 1st of April 2017
This was a great event last season and it looked incredibly well attended in the stadium section, which sadly wasn't the best for overtaking. Using an abridged version of the Hermanos Rodriguez circuit employed by Formula One, it actually delivered a very captivating race despite some fears that it wouldn't work and that the track had been neutered by chicanes. Sadly Salvador Duran will not be driving this year, as he got huge support here after appearing for Team Aguri last year.
Round 5) Monaco ePrix, 13th of May 2017
A returning event from the first season, Monaco is remembered for a huge first corner pile up due to some ridiculous modifications to Saint Devote, the first corner, where instead of following the F1 circuit it instead became a tight hairpin and rejoined at the chicane. Although it used the famous Swimming Pool section as well as Rascasse, the track was not the greatest for overtaking, and it's hoped that the full circuit will be used this season. This is Venturi's home race, but I expect that won't bother them too much; those guys are professionals who will prefer to get on with the job.
Round 6) Paris ePrix, 20th of May 2017
Situated in Les Invalides, with an idyllic view of the Eiffel tower and central Paris in the background, this was an event that proved divisive amongst fans, some of which had a pretty terrible experience at the track last year. Fingers crossed the organisers take steps to ensure as many people as possible have good views of the track and are not pushed out of the way by officials this time. The track itself was surprisingly okay for overtaking, and provided a very unique challenge last year particularly in low temperatures. As the home race for Renault e.Dams, DS Virgin's OEM Citroen and drivers for Nico Prost, Jean Eric Vergne and Loic Duval, locals will be spoilt for choice on who to support; expect JEV as a born and bred Parisian and Prost as the son of a ubiquitous French Legend to garner the most applause though.
Round 7) Berlin ePrix, 10th of June 2017
Located in Karl Marx Allee, this is another fantastic and picturesque location that features an almost cross-shaped circuit wielding it's way around a fountain. It is tight layout but due to long straights and hairpins overtaking is far from impossible. This is a home race for Abt Audi Sport, Andretti's OEM BMW (Who sponsored the race last year) and for drivers Daniel Abt, Nick Heidfeld and Maro Engel; Daniel Abt in particular drew big cheers whilst celebrating his second place last year was his best result yet in Formula E. Heidfeld is also well known here after his journeyman F1 career, and he was slightly more reserved with his recovery drive from last to 7th.
Round 8) Brussels ePrix, 1st of July 2017
This race is situated right outside the European Parliament, a place Agag knows well from his years as a Spanish MEP. This is also the home race for FF Dragon's Jerome D'Ambrosio, who is probably the country's third favourite driver after McLaren's F1 star Stoffel Vandoorne, and adopted half-Belgian Red Bull sensation Max Verstappen.
Round 9) New York ePrix 1,15th of July 2017
Round 10) New York ePrix 2, 16th of July 2017
So, the season starts it's two double headers in style with a world first: A street race in New York City. The track in question is situated in the Red Hook Neighbourhood in Brooklyn, right next to the Hudson river. With London off the calendar after it proved deeply unpopular with locals in Battersea Park, and with the failure to secure a replacement venue, this is now the new jewel in Formula E's crown, and definitely an event that racing fans the world over have reason to be excited about.
Round 11) Montreal ePrix 1, 29th of July 2017
Round 12) Montreal ePrix 2, 30th of July 2017
This new event was initially expected to visit the circuit Gilles Villeneuve used by Formula One, but instead this track will be on the streets of Montreal, although it's not officially confirmed where. Jacques Villeneuve may be long gone, but I know that my trusted friend and confidant, FF Dragon's commercial director Keith Smout will be proud to end the season at home.
*All dates and rounds are provisional and may be changed or cancelled at any time prior to them actually happening.
Some news on Roborace
Roborace is the support championship for driverless cars which some have rumoured will appear at the end of season 3. A development car has tested at Donington and impressed a lot of onlookers, however with no dates announced, no news of any teams taking part, and manufacturers like Audi claiming to have no interest in Roborace whatsoever it unfortunately seems unlikely that anything will be ready in time for the current season, and this ambitious experimental series will likely have to wait until season 4 to get off the ground. This is even worse because Formula E lacks a consistent support series; Hong Kong will feature a celebrity race in Volkwagen e-Golfs, but that's the day before the race, meaning there will be little of interest on track inbetween the FE action.
Continuity with FanBoost and Superpole
There are very few changes from season 2 in terms of format: The full course yellows stay, although they did cause minor controversy when used during a pitstop phase in Beijing and also at Punta Del Este when Sebastien Buemi saw his race lead reduced as he was unsure when the FCY had ended due to poor communication from Race Control and the trackside marshals. The Superpole system, where after all the qualifying groups have finished the 5 fastest cars all have one lap to beat each other, worked incredibly well for Formula E and will also remain, as will the controversial FanBoost system allowing fans to vote for their favourite drivers to receive a brief speed boost of 200 KW, which it emerged at the end of the season had been manipulated by tens of thousands of fake votes using purchased bots at each and every race. Hopefully this issue is rectified for this season, but only time will tell.
Reported By
Edward Hunter
Formula E Editor
In Association With Formula E Addicts